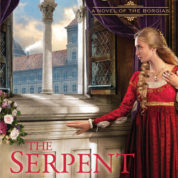 Today, a handful of food-loving readers have gathered together to celebrate the latest release by Kate Quinn, THE SERPENT AND THE PEARL. One of the three protagonists was a chef! (Be still my beating heart.) A chef who gushed over the odors of foods and the rhythm of 16th century kitchens, specialty dishes, and the carefully guarded family recipes she recreated. In other words, MUSIC TO MY EARS. So we bloggers read the novel (I gobbled it up) and chose a dish we wanted to recreate, then we all linked to one another to share our dishes with you! Peruse the links below and offer your own cooking wisdom.
My Thoughts on the Book
Kate's latest release is a fast-paced, riveting read that transports you to 16th century Italy and the intriguing time of the Borgias. I must admit, this era doesn't draw me in naturally. I prefer my historical fiction to be set in a later era, in general, unless a book is stellar. I should have known better! Quinn's other novels set in ancient Rome have all enthralled me, and I'm happy to say this book was no different. Her crackling wit, sensual detailing, and deft hand with political intrigue (in a very lively way laced with murder and mayhem),  kept me up turning pages for four straight nights, late into the night, until I devoured the whole novel. I hope you all enjoy it as much as I did!
Bring on the Food
Hop around! Check out the other recipes linked below, as well as those I made—Cream of Asparagus Soup with Beef Broth and a creamy puddling-like dessert, Zabaglione. And above all, don't miss this wonderful book. I truly loved it.
Hoppers
Kate Quinn: Hot Sops with Cherries
Chelsea: Spit-roasted duck, milk snow, and peach crostata
Theresa: Fresh Cheese & onion Tourte
Lori: Capon with garlic,coriander, white wine, and baked apples
Christiane: Elderflower Frittelle and Sugared Biscotti
Deana: Shoulder of Boar
Recipes
Cream of Asparagus Soup with Beef Broth
Ingredients:
2 Tab butter
1 onion, finely chopped
1 celery stalk, finely chopped
2 C beef broth
1 lb asparagus
2/3 C fresh cream
Directions:
Melt butter in pot over medium heat.
Add onion & celery and sauté until translucent. (7 min)
Clean and cut asparagus ends off and chop remainder.
Add beef broth to pan, bringing to a boil.
Add asparagus.
Cover & simmer 5 min.
Blend with a blender. (Immersion blenders make it too stringy and gooey so I would avoid those if you can.)
Add cream, whisk together, and serve.
********My kids didn't love this recipe, but my husband and I did! Just be sure to puree it well into a veloute as the French would say (or velvety texture). And serve it with some crusty, delicious bread.
Zabaglione
Ingredients: 
4 egg yolks
4 ts sugar
4 tab Marsala wine
Directions: 
Whisk all ingredients together over a double boiler until thick like pudding.
Take off and on heat while cooking so eggs don't scramble.
Serve warm.
*Alternative Option
********My family didn't love the regular version because of the strong taste of alcohol. (I did, but it didn't sit well with a 4 & 6 yo or my husband.) So I made an alternate version with chocolate. You do the same exact thing as listed above EXCEPT, you melt some chocolate in heavy cream and fold it into the egg mixture. I spooned this into custard dishes, tossed in some raspberries and blueberries and refrigerated it. Everyone loved it! It came out like a decadent, homemade chocolate pudding.
Chocolate Zabaglione 
**Do everything above AND–
1/8 C whipping cream
1/4 C semisweet chocolate chips
Melt chocolate in the cream over med-low heat, stirring often until smooth.
Fold into egg mixture over the double boiler.
Divide into custard dishes. Throw in berries. Refrigerate for an hour. EAT!
/ul