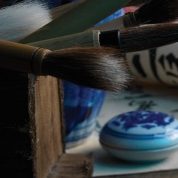 That conniving ninja Hiro Hattori has sliced up the cover of book two in the Shinobi Mystery Series: BLADE OF THE SAMURAI. All of the missing pieces will be assembled on Friday, October 25th at Susan Spann's blog HERE. Can you guess what is happening in this piece of the cover? Leave a comment and go into a drawing for some ninja-tastic prizes including gift cards, ninja mug, and ninja cookie cutters!

About the Book
June, 1565: Master ninja Hiro Hattori receives a pre-dawn visit from Kazu, a fellow shinobi working undercover at the shogunate. Hours before, the Shogun's cousin, Saburo, was stabbed to death in the Shogun's palace. The murder weapon: Kazu's personal dagger. Kazu says he's innocent, and begs for Hiro's help, but his story gives Hiro reason to doubt the young shinobi's claims.
When the Shogun summons Hiro and Father Mateo, the Jesuit priest under Hiro's protection, to find the killer, Hiro finds himself forced to choose between friendship and personal honor.
The investigation reveals a plot to assassinate the Shogun and overthrow the ruling Ashikaga clan. With Lord Oda's enemy forces approaching Kyoto, and the murderer poised to strike again, Hiro must use his assassin's skills to reveal the killer's identity and protect the Shogun at any cost. Kazu, now trapped in the city, still refuses to explain his whereabouts at the time of the murder. But a suspicious shogunate maid, Saburo's wife, and the Shogun's stable master also had reasons to want Saburo dead. With the Shogun demanding the murderer's head before Lord Oda reaches the city, Hiro and Father Mateo must produce the killer in time … or die in his place.
Missing Pieces
The other puzzle pieces to the cover can be found here:
Tuesday: Swimming North (the blog of author Kerry Schafer)
Wednesday: Writing the Renaissance (the blog of author Julianne Douglas)
Leave a Comment
If you leave a comment on any of the five reveal tour posts this week (including this post) you'll be entered into a drawing to win one of three fun prizes – and yes, multiple comments means multiple entries, though there's a limit of one comment per person per blog post and a limit of one prize per person. 
Prizes
(limit one prize per person, and I'll do separate drawings for each prize):
1.  A $25 gift card to Barnes & Noble.
2. A ninja mug!
You know you want one.
3. A set of ninjabread men cookie cutters.
Because all cookies secretly want to be ninjas.
And now, the legalese (because, you know, I'm a lawyer): All comments must be left on participating blogs on or before midnight Pacific Time on Sunday, October 27, 2013. Limit one prize per person. Limit one eligible comment per blog post, for a total maximum of five entries per person.
Sales pages (pick any one you want to):
DON'T FORGET TO LEAVE A COMMENT!