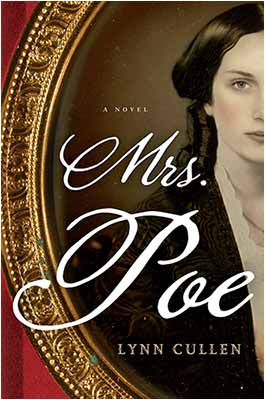 I am delighted to welcome author Lynn Cullen to the blog today. She is a multi-award-winning author and a very lovely person. I had the pleasure of meeting her in person at her book launch party in Manhattan. And what fun that was–a gothic clothing gallery housed the event. I gobbled up the delicious cheese and later, her evocative novel Mrs. Poe.
About the Book
New York, 1845. Mr. Poe's "The Raven" is all the literary rage-the success of which a struggling poet like Frances Osgood can only dream. As a mother trying to support two children after her husband's betrayal, Frances jumps at the opportunity to meet the mysterious Poe, if only to help her career. Although not a fan of his writing, Frances is overwhelmed by his magnetic presence-and the surprising revelation that he admires her work. What follows is a flirtation, then a seduction, then an illicit love affair. But when Edgar's frail wife Virginia-a cousin half his age-insists on befriending Frances as well, the relationship becomes as dark and deceiving, as full of twists and turns, as one of Poe's tales…and maybe, as Frances fears, every bit as deadly.
Have you always been a fan of Edgar Allen Poe, or did something about Frances Osgood's life inspire you to write this story?
Before I got the idea to write about this book, I knew no more about Poe than the average American—like everyone else, I had to read his stories and poems in school.  It was only after I'd read about Frances Osgood that I wanted to tell Poe's story. I loved that Frances was a single mother who was trying to support her children by her writing—a hard enough feat in our times and a nearly impossible one in theirs.   And then I saw that she and Poe were suspected of having an affair during the year 'The Raven' came out.  Overnight, 'The Raven' made Poe the darling of the New York literati and indeed, the rest of the U.S.   He became a celebrity of modern-day movie star proportion, yet within a year, he was a social outcast who had to flee to the countryside in disgrace.  I wanted to know Frances's part in his downfall—and the effect the affair might have had on her.
What's your favorite piece by Poe and why?
'Ulalume' is by far my favorite.  I based the book on it, in fact.  It's weird, but every time I read 'Ulalume,' I hear a low roar like that of flowing lava in my mind—the sound, I think, of grinding mental anguish and loss.  Poe's emotions in this poem are real (and even audible!) and because of the timing of the writing of the poem, I theorize that they were a product of his loss of Frances and their child.  I will acknowledge that my theory comes from reading between the lines of this poem, but there are many bits of evidence from their lives that point to my conclusions.  As a novelist, I simply connected the dots.
What was the biggest challenge in writing this novel?
Staying absolutely true to each character was the biggest challenge I gave myself.  I wanted to be very, very careful about not manipulating my characters into doing things that fit my story but rather to let their personalities show me how they would behave in a situation.   I was lucky to be able to base my characters on real people for the most part, which meant that I had ready-made raw material from which to spin my characters.  I would examine their real-life portraits and their writings and go from there.  My website, www.lynncullen.com, contains a gallery, with bios, of all the real people mentioned in the book so you can see what they actually looked like.
Can you share what your next project is?
I'm working on a novel about Mark Twain and the women in his life.  Like Poe, our common perception of the man has a large disconnect from reality.
What advice would you share with aspiring writers?
One of the best pieces of advice I got for writing was from Michael Martone, a childhood friend and now a professor of English at the University of Alabama.  He told me about 30 years ago to "love your characters."  That means not looking down on them or scorning them or mocking them, but to truly love and empathize with them, even your villains.  It took me awhile to understand what he meant but now it's my first rule of writing.  The more you love and respect your characters, the more readers will, too.
About the Author
Lynn Cullen is the author of The Creation of Eve, named among the best fiction books of 2010 by The Atlanta Journal-Constitution and as an April 2010 Indie Next selection. She is also the author of numerous award-winning books for children, including the young adult novel I Am Rembrandt's Daughter, which was a 2007 Barnes & Noble "Discover Great New Writers" selection, and an ALA Best Book of 2008. Her novel, Reign of Madness, about Juana the Mad, daughter of the Spanish Monarchs Isabella and Ferdinand, was chosen as a 2011 Best of the South selection by the Atlanta Journal Constitution and was a 2012 Townsend Prize finalist. Her newest novel, MRS. POE, examines the fall of Edgar Allan Poe through the eyes of poet Francis Osgood.