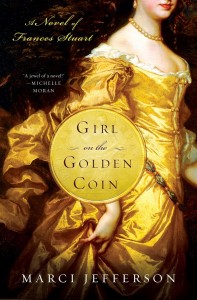 I'm so happy to welcome my dear friend and talented author Marci Jefferson to
Between the Sheets
. Her debut novel GIRL ON THE GOLDEN COIN releases today! Publisher's Weekly gave it a starred review and says "
"Jefferson's intoxicating first novel superbly draws readers into the mischief and maneuverings, 
loyalties and treacheries, and lust and hostility of powerful 17th century kings and scheming court 
sycophants…this is an exciting, solid debut."
About the Book
In 1660, the Restoration of Stuart Monarchy in England returns Frances Stuart and her family to favor. Frances discards threadbare gowns and goes to gilded Fontainebleau Palace, where she soon catches the Sun King's eye. But Frances is no ordinary court beauty—she has Stuart secrets to keep and her family to protect. King Louis XIV turns vengeful when she rejects his offer to become his Official Mistress. He sends her to England with orders to seduce King Charles II and help him form an alliance with England. The Queen Mother likewise orders Frances to become her son's mistress, in the interest of luring him away from the Protestant mistress he currently keeps.Armed in pearls and silk, Frances maneuvers the political turbulence of Whitehall Palace, but still can't afford to stir a scandal, determined to keep her family from shame. Her tactic to inspire King Charles to greatness captivates him and the two embark on a tenuous relationship. Frances survives the Great Fire, the Great Plague, and the debauchery of the Restoration Court, yet loses her heart to the very king she must control. A startling discovery will leave her with no other choice but to break his heart, while the fate of England hangs in the balance.
Your novel explores the reigning Stuart family, the court intrigue, and the subsequent wars–all through the eyes of Frances Stuart. What was it about the Stuarts that interested you initially?
Living in Yorktown, Virginia nourished my love of history. I read about the American Revolution and toured sites that played a role in our independence. Naturally I picked up some British history, and as I got older I continued reading about England's past. But it was a visit to London, while riding atop a red double-decker tour bus, that sparked my interest in the Royal Stuarts. Somebody pointed out the Banqueting House where Charles I was beheaded. I always thought kings *ordered* the beheadings! I promptly started reading everything I could about the Stuarts.
There are a few wars mentioned in the novel. The English Civil War involved old tensions between Catholics and Protestants left over from the Tudor reign, but ultimately it was a power struggle between Parliament and the crown. As mentioned above, Charles I lost his head, and Charles II wasn't able to assume the crown until he was Restored in 1660, which is where my novel begins.
Charles II spent most of his energy making sure another Civil War didn't erupt in England. And so does Frances in the novel. But Charles II *did* engage in the Anglo Dutch war. Essentially this was a war for lucrative maritime trading rights. In the novel, the French King Louis XIV orders Frances Stuart to prevent the Anglo Dutch war from erupting. But Louis XIV has hidden agendas, and Frances's efforts lead to disastrous consequences.
What do you admire most about Frances Stuart? Do you see yourself in her?
Frances really stands up for what she believes. Even if it costs her own happiness, she does the honorable thing. Her struggle to assert her independence and find her voice is one that many women face. I did.
Depicting a lively court is a difficult task and you do it beautifully. Can you share a little about your process here.
Thank you! I have a raging case of researchitis. I write in phases of research and writing. I researched the period for years before I wrote a word. That provided my foundation, but more detailed research was required for each scene. At times I felt I couldn't write a single sentence without having to look up some fact or another. The dialogue scenes were actually easier since I could just let my characters take over. My only advice on creating a lively court scene is keep the pace fast, keep the writing active. 
If you could be a fly on the wall, which scene would you have liked to see play out in the Stuart history and why?
How can I pick just one? I'd love to see exactly what happened between Frances Stuart and Louis XIV. I'd have loved to see her reject James II of England. For as long as I live I will wonder exactly what transpired between Frances Stuart and Charles II to see if I got it right. I would not want to be in London for the Great Plague of 1665 or the Great Fire of 1666.
Can you give aspiring writers any advice?
Read the type of books you want to write, write every day, cut the parts readers skip, show don't tell, have faith, and if at first you don't succeed, try, try again.
Speed Round
Best Place on Earth: Venice, Italy
Hidden Talent:  Making sinfully delicious chocolate chip cookies
Biggest Vice:  70% dark chocolate
Book Recommendation:  Karleen Koen's DARK ANGELS and Tracy Chevalier's GIRL WITH A PEARL EARRING are two of my favorite novels set during the same period.

About Marci Jefferson
Years after graduating from Virginia Commonwealth University, immersing herself in a Quality Assurance nursing career, and then having children, Marci realized she'd neglected her passion for history and writing. She began traveling, writing along the way, delving into various bits of history that caught her fancy. The plot for GIRL ON THE GOLDEN COIN evolved slowly after a trip to London, where she first learned about the Stuart royals. Marci is a member of the Historical Novel Society. She resides in the Midwest with her husband, making hair-bows for their daughter, trying not to step on their son's Legos, and teaching a tiny Pacific Parrotlet to talk.
Find Marci here:  
Twitter: @MarciJefferson