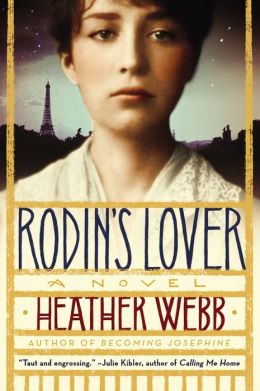 Happy Monday, all. I had the excitement of finding a lovely package on my doorstep at the end of last week–advanced reader copies of Rodin's Lover arrived! I'm so excited to send my second book child out into the world that I'm giving away three copies on Goodreads. All you have to do is hit a button to enter:
About the Book:
As a woman, aspiring sculptor Camille Claudel has plenty of critics, especially her ultra-traditional mother. But when Auguste Rodin makes Camille his apprentice—and his muse—their passion inspires groundbreaking works. Yet, Camille's success is overshadowed by her lover's rising star, and her obsessions cross the line into madness.
Rodin's Lover brings to life the volatile love affair between one of the era's greatest artists and a woman entwined in a tragic dilemma she cannot escape.


Praise:
"Camille Claudel is an audacious and authentic character who deserves to be remembered. Rodin's Lover is epic and unflinching–a book you won't soon forget." –Deanna Raybourn, New York Times bestselling author of City of Jasmine

"Taut and engrossing"–Julie Kibler, bestselling author of Calling Me Home

"Webb gracefully explores this ignitable relationship while illuminating Claudel's untold heartbreak and evocative artwork. A story of human emotion, once raw and malleable, now preserved to lasting stone."–Sarah McCoy, New York Times, USA Today and international bestselling author of The Baker's Daughter

"Written with great empathy, this novel of the visceral world of Paris ateliers, of clay-stained dresses and fingernails, and talent which endures, comes vividly to life." -Stephanie Cowell, author of Claude and Camille: A Novel of Monet