Eating is one of my great hobbies. There's nothing better than an evening of sipping wine while laboring over a new creation, or a night on the town sampling my way through a menu. I'm constantly in search of an exotic flavor combination that excites my palate. And who doesn't love a good show? At any hot restaurant, I can be found waiting with baited breath for the server to place my ordered items in front of me to criticize, savor, and adore.
COOKING is for experimenting! I tire of the same boring ingredients in the same trite dishes, though a busy week has me burdened by the lengthy process of list-making, shopping, and creating. On these days, I draw from my repertoire of easy-to-make soups, marinaras, and curries. I rebound on weekends by delving into my cookbooks, scouring the internet, and mixing my own ideas to produce something worthy of praise.
BAKING is a completely different animal. It's a balm for my soul on those days I've been tormented by my needy children, my stack of bills, or life's fastballs. Indulging in the warm sugared scents that fill my home carry me away from my hardships. I dream of floating on clouds of spun sugar and whipped eggs, or paddling through canals of butterscotch pudding when I'm feeling blue. Chocolate mousse cake, lemon tarts, and peanut butter cookies could certainly solve world hunger–of this I am certain.
Though I'm happy to try new baking recipes, I spend little time creating my own. Baking is a science, after all…or so they say. I can forgive a mediocre cooking experience from time to time, but have little patience for baking blunders. Baked goods serve a higher purpose, after all– curing heartache, erasing fatigue, and enlivening an otherwise uneventful day.
I am delighted to share my recipes here, along with my favorite links and cookbooks. There are so many things I have yet to learn about these great art forms. I hungrily await your comments!
FOODIE BLOGS
French Revolution–This is by far my favorite food blog. Kerry posts beautiful, clean pictures of delicious French-infused foods.
Oven Love– A hodge podge of recipes that are fairly easy and delicious
Proud Italian Cook– Traditional Italian and American Italian dishes with a foodie flair
Sweet Tooth–Beautiful, innovative baked goods. The cupcakes are works of art.
The Daily Dish– Yummy family oriented recipes
FOOD & BOOKS
Beth Fish– Beth is a freelance editor and professional book reviewer. Her reviews are insightful, but my favorite posts are her #WeekendCooking editions on the weekend that range from recipes, to cookbooks, to food-packed movies. Anything food-related. Readers can link up and hop around as well.
Faith Middleton – Faith is a radio talk show host at NPR in Connecticut. I adore her Food Schmooze and her author interviews. All of her shows can be found on the linked website!
OTHER FOOD WEBSITES
RECIPES: For my own versions of the best dishes around, check the FOODIE ADVICE category of my blog.
Finally, here's a book club menu inspired by my novel BECOMING JOSEPHINE.

BOOK CLUB MENU FIT FOR AN EMPRESS
Kir Royale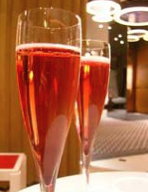 Ingredients:
4 tablespoons Chambord
1 bottle French Champagne or sparkling wine, chilled
Directions:
Place 4 Champagne flutes in the freezer for 15 minutes. Remove and add 1 tablespoon of the Chambord to each flute. Fill each flute to the top with Champagne and serve immediately.
*Photo by Hilary Perkins
 Cheese Plate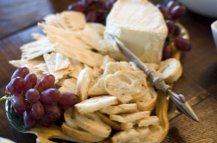 Saint André Triple cream Brie
Comté
Port Salut
Chèvre
Camembert
 *photo by yakimamagazine.com
Petits Fours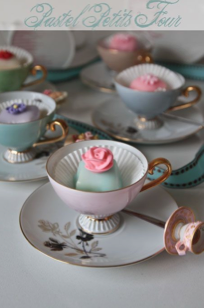 Ingredients:
 1 (16-ounce) pound cake
9 cups powdered sugar
1/2 cup light corn syrup
1/2 to 3/4 cup water
1 teaspoon vanilla extract
1/2 teaspoon almond extract
Liquid food coloring
Decorations, such as sprinkles, colored sugar, and candy flowers
Directions:
Bake a homemade vanilla cake. The cake should be dense so it can absorb liquid frosting. Cut the entire cake into 1-inch-thick slices. Then use 1-inch-wide cookie cutters or a knife to cut round, square, and diamond shapes from each slice. Place the cake pieces on a wire rack set on a waxed paper-lined cookie sheet.
In a saucepan over medium heat, mix together the powdered sugar, corn syrup, 1/2 cup water, and vanilla and almond extracts until the mixture is smooth and creamy, about 5 minutes. Remove the saucepan from the heat and let it cool for about 5 minutes. As the icing cools, it may start to stiffen; if so, stir in a spoonful of water to keep the icing smooth and flowing. Divide the icing equally between two or three small bowls. Stir food coloring, a drop at a time, into each bowl until the icing is the desired shade.
Working with one piece of cake at a time, spoon on the icing to cover it completely, then add sprinkles, colored sugar, or a candy flower before the icing sets. Let the cakes stand, uncovered, until the icing is dry, about 30 minutes. Store them in an airtight container for up to three days. Makes about 30 cakes.
*recipe from Spoonful.com & photo from NotquiteNigella.com